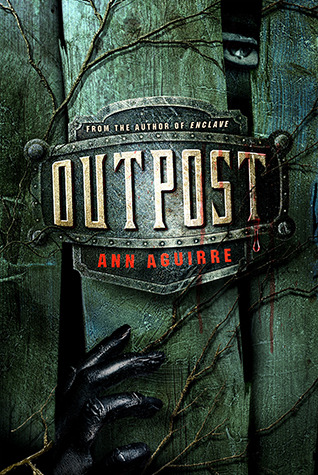 Title: Outpost (Razorland #2)
Deuce's whole world has changed.

Down below, she was considered an adult. Now, topside in a town called Salvation, she's a brat in need of training in the eyes of the townsfolk. She doesn't fit in with the other girls: Deuce only knows how to fight.

To make matters worse, her Hunter partner, Fade, keeps Deuce at a distance. Her feelings for Fade haven't changed, but he seems not to want her around anymore. Confused and lonely, she starts looking for a way out.

Deuce signs up to serve in the summer patrols—those who make sure the planters can work the fields without danger. It should be routine, but things have been changing on the surface, just as they did below ground. The Freaks have grown smarter. They're watching. Waiting. Planning. The monsters don't intend to let Salvation survive, and it may take a girl like Deuce to turn back the tide.
I don't really remember book one that well so I can't say if I liked this one more or less but I do know that I did enjoy this book a lot and as I read on I remembered what I needed to from the first book and I really enjoyed how things continued on.
I like Deuce, I know there are people who do not and criticize her a lot because of her reactions to certain events but as tough as some of the things were that happened in both books, I enjoyed the authenticity of her reaction based on her upbringing and her limited interaction and knowledge of topside. I also think that Deuce is growing and learning but I admire her will to stay true to the thing that makes her feel alive and important, she also has Momma oaks to give her guidance it the ways of the world and when she shiws her love it changes a lot if things for Deuce and I simply feel in love with momma oaks quickly and was glad for her presence it brought light to a pretty dark and dangerous world.
Spoilers Ahead
Stalker is an interesting dude, I know he did terrible things but the more he is around and opens up I believe that he did what he did because he thought that was the only way to survive, and I may like him but I do not think he is the right choice for Deuce and I'm glad he is not on the radar really anymore even if he still thinks he is. Fade and Deuce are partners in more ways than one and I enjoyed the time they got in carefree love. I don't agree with what stalker said about Fade:
"He won't make you happy, dove. He's soft in ways you and I aren't. Ultimately, you're going to break him."
I think that softness he has is something Deuce needs and I dont think she will break him I think she will save him, always as he will her. Longshot was as good for Deuce as momma oaks he sad my favorite thing to Deuce:
"Then speak louder girl, Don't let them put out your spark."
I'm very shocked by the evolution of the freaks or muties as Salvation calls them, I knew that they were learning but I did not exspect colonies living like the humans, I'm curious to know more of them as it is clear they are not just mindless zombies as we were once lead to believe.
I'm worried about our little group as they travel from Salvation in hopes to save it and I will continue on ASAP.