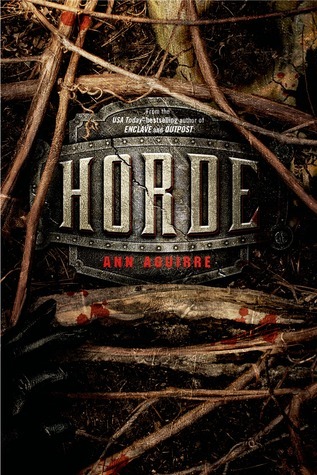 Title: Horde (Razorland #3)
SYNOPSIS:
The horde is coming.
Salvation is surrounded, monsters at the gates, and this time, they're not going away. When Deuce, Fade, Stalker and Tegan set out, the odds are against them. But the odds have been stacked against Deuce from the moment she was born. She might not be a Huntress anymore, but she doesn't run. With her knives in hand and her companions at her side, she will not falter, whether fighting for her life or Fade's love.
Ahead, the battle of a lifetime awaits. Freaks are everywhere, attacking settlements, setting up scouts, perimeters, and patrols. There hasn't been a war like this in centuries, and humans have forgotten how to stand and fight. Unless Deuce can lead them.
This time, however, more than the fate of a single enclave or outpost hangs in the balance. This time, Deuce carries the banner for the survival of all humanity
MY REVIEW:
Well this was a satisfying end to a satisfying series. I have really enjoyed this series and the things I believe it stsnds for, such as being true to yourself and fighting for what you love snd believe in. This world is made up of some really great characters, some not so great characters, and some forgettable ones but they all played their part. There was an extra bit of death in this conclusion but I expected that, it was war after all and some were troubling but one hit me harder than I had expected and was a lingering sore spot for some of our characters but all in all the ending was perfect deaths or not.
My favorite thing about this installment was the revelation of why it's called the Razorland series, it was perfect and I could not have asked for a better explanation. The freaks also evolved a lot and it was interesting to get more info on them and hoe they learn and I know believe they are NOTzombies but I still really liked the idea of them maybe more than zombies.
This being book three and an epic ending I won't say more as not to spoil anything. I loved this series and I'm kinda sad its over but I enjoyed the ride and the great ending this book brought it.