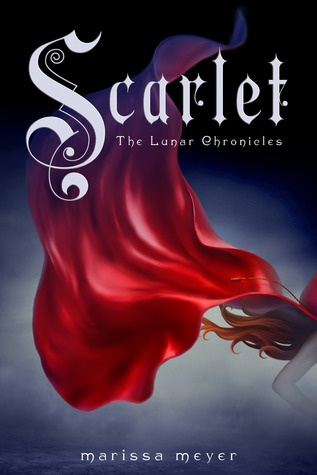 Title: Scarlet
Author: Marissa Meyer
Series: The Lunar Chronicles 2
Rating: 5/5
Summary
Cinder, the cyborg mechanic, returns in the second thrilling installment of the bestselling Lunar Chronicles. She's trying to break out of prison--even though if she succeeds, she'll be the Commonwealth's most wanted fugitive. Halfway around the world, Scarlet Benoit's grandmother is missing. It turns out there are many things Scarlet doesn't know about her grandmother or the grave danger she has lived in her whole life. When Scarlet encounters Wolf, a street fighter who may have information as to her grandmother's whereabouts, she is loath to trust this stranger, but is inexplicably drawn to him, and he to her. As Scarlet and Wolf unravel one mystery, they encounter another when they meet Cinder. Now, all of them must stay one step ahead of the vicious Lunar Queen Levana, who will do anything for the handsome Prince Kai to become her husband, her king, her prisoner.
My Review
Once I finished Cinder I had to move on th Scarlet and if I had Cress available I would be all over that but sadly I will have to wait, but for now let's talk Scarlet. If you have not read Cinder this will contain spoilers for that and I can not grantee that this will not contain spoilers for Scarlet. It took me a little bit to get into this one and I am not sure why cause as you can tell I loved it (5 stars) I think maybe I just had to get used to the new characters, and once I did I really really loved Scarlet, Wolf, and Thorne (pretty sure he is my new favorite). Cinder just got better and better and I continue to love her a lot, the poor girl has so much going on but she is doing her best to survive and I was extremely glad to see her make her brave stand against Levana, I am so ready for her to kick some Queen ass, also her new cyborg parts and Luna powers have made things that much more interesting. So can we just talk about Thorne for a second, I love him, he has a hilarious swagger that is irresistible, I am so glad Cinder made an error and ended up in his cell, not only is it fun to see him interact with Cinder and everyone else for that matter, he has also proven useful. I can not wait for more CAPTAIN Thorne!
So since the book is called Scarlet lets get to the new addition. I liked her but I did not insta love her like with Cinder, she for sure grew on me and after they all finally met and things started taking shape I was glad for her spunk and frank personality, it helped in so many ways and her journey to Cinder was entertaining indeed. As a werewolf lover, having wolf in the story made me leery, mostly because they are not werewolves really but something much different, but I must admit I enjoyed how he and the others fit into the overall conflict and I am eager to find out more about Wolf and maybe forgive his HUGE betrayal, I am not so quick to forgive like Scarlet he has a bit to prove first.
I am loving this new group of misfits from all over the world coming together and I can not wait to watch them prevail over evil. Love this series and I can't wait to read on.