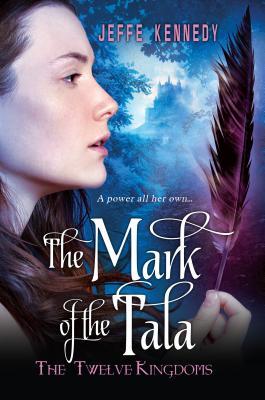 Title: The Mark of the Tala
Author: Jeffe Kennedy
Series: The Twelve Kingdoms
Rating: 4/5
Summary
In this romantic fantasy trilogy, Jeffe Kennedy brings to life the Twelve Kingdoms, a world of beauty, darkness, strength and danger, and the three sisters who must oncover their destinies.
My Review
I won a paperback copy of this book on Goodreads first reads and I was very excited to read it so as soon as it arrived I got to reading, Now I am not sure why but I thought this was young adult fantasy but I realized it was not when the very graphic and very intense sex scenes started, and I am not sure why it matters but it threw me for a bit of a loop.
The tale of three sisters trying to find their way in a kingdom ruled by their tyrant and distant father captured me right away, and I was a big fan of Andromenda quickly, I really enjoyed watching her story unfold and see her discover her place in the world that she so long felt invisible in, and only to find that she has a bigger purpose than she could have ever imagined.
The world Kennedy created was a place I would want to see one day, the magic and beauty drew me in and I am ready for book two to find out more about not only the land but the other sisters as well.
I must say for being the terrible enemy I sure liked Rayfe, he was handsome, strong, and despite his tactics I think he really loved Andi and I can see them being happy together.
Overall I found this book enjoyable, there were times that I felt it was a little drawn out and slow and it took me a little longer to get through than I would have liked but I enjoyed it just the same and I would really like to read book 2.