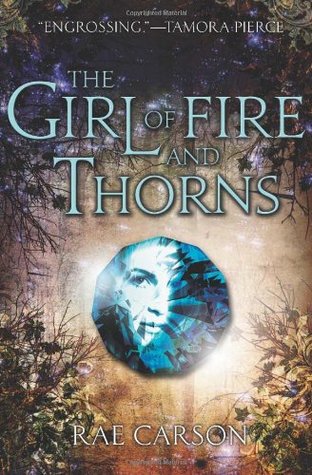 Title: The Girl of Fire and Thorns
Author: Rae Carson
Series: Fire and Thorns 1
Rating: 3.5/5
Summary
Once a century, one person is chosen for greatness.
Elisa is the chosen one.
But she is also the younger of two princesses, the one who has never done anything remarkable. She can't see how she ever will.
Now, on her sixteenth birthday, she has become the secret wife of a handsome and worldly king—a king whose country is in turmoil. A king who needs the chosen one, not a failure of a princess.
And he's not the only one who seeks her. Savage enemies seething with dark magic are hunting her. A daring, determined revolutionary thinks she could be his people's savior. And he looks at her in a way that no man has ever looked at her before. Soon it is not just her life, but her very heart that is at stake.
Elisa could be everything to those who need her most. If the prophecy is fulfilled. If she finds the power deep within herself. If she doesn't die young.
Most of the chosen do.
My Review
I have had this book on my kobo for a long time and when it was book of the month for a group I thought it must be a sign and I started reading. I almost stopped this one and picked up another one, but I am glad I pushed on cause things did pick up and get a little more exciting.
I felt a little bit odd about the amount of religous talk in this book, I completly understand the need for it and it was for sure part of the story, but I found it very hard to connect to that part of the story and that side of Elisa.
There were a few things different about this book I liked, the main thing being that the book was not so focussed on the romance and more on the war and Elisa's struggle to understand why she has the Godstone , and since she was married off in the first chapter and then stolen away from him quickly it left little room for love, although it was there but it was a backround tale.
The second half was much better than the first and it has some very interesting twists, I was very very shocked at one point and I think the ending was very intense. But I am not sure I am rushing out to get the next book, I think I will finish the series someday but not in the near future.