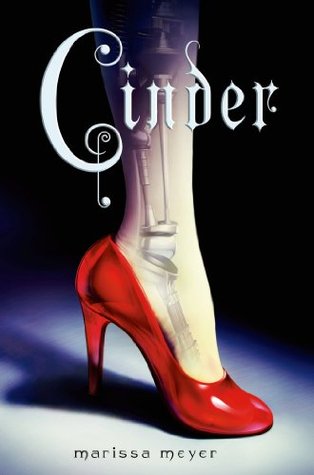 Title: Cinder
Author: Marissa Meyer
Series: The Lunar Chronicles 1
Rating: 5/5
Summary
Humans and androids crowd the raucous streets of New Beijing. A deadly plague ravages the population. From space, a ruthless lunar people watch, waiting to make their move. No one knows that Earth's fate hinges on one girl.
Cinder, a gifted mechanic, is a cyborg. She's a second-class citizen with a mysterious past, reviled by her stepmother and blamed for her stepsister's illness. But when her life becomes intertwined with the handsome Prince Kai's, she suddenly finds herself at the center of an intergalactic struggle, and a forbidden attraction. Caught between duty and freedom, loyalty and betrayal, she must uncover secrets about her past in order to protect her world's future.
My Review
Wow so much of this book was different, fresh, and new and all in the best possible ways helping me fall in love with this unexpected Gem. The fact that Cinder is a cyborg and most of the story is told from her point of view was very neat, I do not recall reading anything like it in the past, I have also not read a Cinderella retelling (I don't think lol) and I loved trying to pick out the similarities as I was reading, best of all was Prince Kia finding her broken foot I mean it was a terrible part of the story but I loved how it was the cyborg version of the glass slipper.
Cinder simply stole mt heart, for all the crap she put up with she still managed to hold her head high most of the time, and in the face of her downfall and rejection she took a stand and with her newfound reslove I can't wait to see where it takes her next. I was also very very fond of Prince Kia, he and even his government truly just wanted the best for their people and it was refreshing to see a futuristic world with a compassionate leader and the enemy is not the government but instead a race of people on the Moon called Lunars, lead by a tyrant Queen hell bent on the Earths destruction.
I want to see more of Cinder and Kia they were very cute together and I can't believe he is just going to throw her aside, and once he hears the whole truth and the Doctor finds a cure for that awful plauge they will make their way back to eachother and fix all the wrongs, these are fairy tale retellings so I hope I get the happy ending that this implies but I may just have to wait a little longer