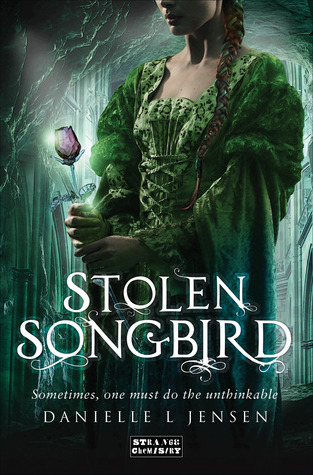 Title: Stolen Songbird
Author: Danielle L. Jensen
Series: The Malediction Trilogy book 1
Rating: 5/5
Synopsis
For five centuries, a witch's curse has bound the trolls to their city beneath the ruins of Forsaken Mountain. Time enough for their dark and nefarious magic to fade from human memory and into myth. But a prophesy has been spoken of a union with the power to set the trolls free, and when Cécile de Troyes is kidnapped and taken beneath the mountain, she learns there is far more to the myth of the trolls than she could have imagined.
Cécile has only one thing on her mind after she is brought to Trollus: escape. Only the trolls are clever, fast, and inhumanly strong. She will have to bide her time, wait for the perfect opportunity.
But something unexpected happens while she's waiting – she begins to fall for the enigmatic troll prince to whom she has been bonded and married. She begins to make friends. And she begins to see that she may be the only hope for the half-bloods – part troll, part human creatures who are slaves to the full-blooded trolls. There is a rebellion brewing. And her prince, Tristan, the future king, is its secret leader.
As Cécile becomes involved in the intricate political games of Trollus, she becomes more than a farmer's daughter. She becomes a princess, the hope of a people, and a witch with magic powerful enough to change Trollus forever.
My Review
wowza I loved this book, I knew it would be good from the moment I saw the beautiful cover and read the very interesting blurb on the back but I never expected it to be as amazing as it was, my only complaint it that I can't get book two yet, like WTF I need to know what happens, the last couple of chapters and the last lime were so intense that when the end came I felt like I had been severed from the one I was bonded (little inside joke for all those who have read it lol) I can't wait to much longer so I hope they hurry up.
I have so much I want to say but I hope it does not come off to fan girl cause this is a really great book and I want every one to know it. So much happens at the beginning of this book, cecile is kidnapped by a human working for Trolls, she is roughed up on the journey, and she is married off to the Troll prince and that's just the first 80 pages and it gets so much better from there as Cecile is thrust into the middle of a brewing revolution of the half-blood Trolls, who are treated like slaves since their magic is little or non at all and she is also believed to be the one person who can break the curse that has trapped them under the Mountain for hundreds of years. Now the fact that all of this is put on her shoulders in a short span of time, I admired how Cecile handled herself it was very honest and very brave and the fact that she found a way to make the best of a bad situation was my favorite thing about her and I liked a lot about her, also I enjoyed how she took her time in her decision whether to stay or not when Tristan was kind enough to finally give her a choice :
"Trollus had it's dark side, but there was so much about it that I loved, a world of
opportunity in one small city-"
she may have been slightly blinded by love but for the most part she thought things through.
Okay time to talk about Tristan..YAY! Of course he started off acting like a huge jerk but something told me that was not the real him and of course my thinking was correct, because of his terrible Father he must put on an act to protect himself, his people, and most of all Cecile. I loved him so much and he broke my heart for so many reasons:
"Now I was certain that I'd sacrifice everything to save her."
"There was no good choice, because no matter the outcome, one thing was certain:
I was going to lose her."
The best part about Tristan was how aware of his people's nature he was, he struggled with the decision to break the curse afraid for the humans that he had grown fond of over the years and afraid of the destruction his people would bring :
"Some creatures were best kept in their cages."
I really can't say enough good stuff about him, I do believe I have a new book boyfriend.
There were so many other wonderful characters in this book like Marc, the twins, the Queen and Dutchess and even Anais who I hated at first but she grew on me over time and redeemed herself in the end.
This book had so much to love and I have to stop this review before I give much more away but if you love adventure, love, magic, and fantasy get your hands on this book I am so glad I finally got it and I am soooo stocked for book 2!!! This is a magical thrill ride that no one should miss.
P.S I met the author at a book convention near my city and she was very lovely so add that to the reasons you should read this book!