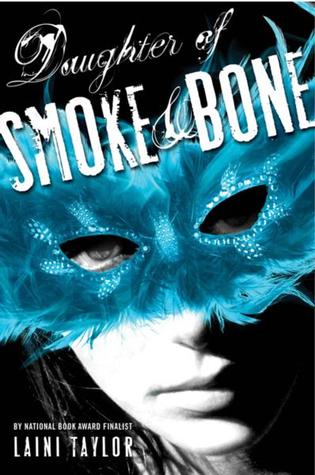 Title:
Daughter of Smoke & Bone
Author: Laini Taylor
Series: Daughter of Smoke & Bone book 1
Rating: 5/5
Summary
Around the world, black handprints are appearing on doorways, scorched there by winged strangers who have crept through a slit in the sky.
In a dark and dusty shop, a devil's supply of human teeth grows dangerously low.
And in the tangled lanes of Prague, a young art student is about to be caught up in a brutal otherwordly war.
Meet Karou. She fills her sketchbooks with monsters that may or may not be real, she's prone to disappearing on mysterious "errands", she speaks many languages - not all of them human - and her bright blue hair
actually
grows out of her head that color. Who is she? That is the question that haunts her, and she's about to find out.
When beautiful, haunted Akiva fixes fiery eyes on her in an alley in Marrakesh, the result is blood and starlight, secrets unveiled, and a star-crossed love whose roots drink deep of a violent past. But will Karou live to regret learning the truth about herself?
My Review
"She had been innocent once, a little girl playing with feathers on the floor of a devils lair.
She wasn't innocent now..."
I'm not really sure what I expected from this book, but I know it was not this! I was kinda thrown off at first cause it's a lot to take in, there is A LOT of mystery, and a lot of world building but once I wrapped my head around it all and submerged myself in this world I found I enjoyed so much about it.
I loved the way this was written, it flowed so well even when it goes back and forth in time and when things started tying together my mind was blown, there was so much originality and so much unexpectedness that I was really caught off guard in the best possible way.
Karou was a great character she was a bad ass shrouded in mystery even to herself and I loved finding out about "Elsewhere" with her and then finding answers about where she comes from... it was spectacular. Akiva, I was not a fan of at first but as the mystery unfolded and we learned more I felt drawn into his story and his struggle.
I don't want to spoil anything but this book was an unexpected gem and I can't wait to see this series continue I have a feeling it's about to get epic.