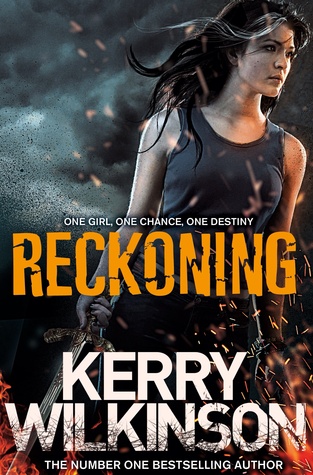 Title: Reckoning
Author: Kerry Wilkinson
Series: Silver Blackthorn book 1
Rating: 5/5
Summary
In the village of Martindale, hundreds of miles north of the new English capital of Windsor, sixteen-year-old Silver Blackthorn takes the Reckoning. This coming-of-age test not only decides her place in society - Elite, Member, Inter or Trog - but also determines that Silver is to become an Offering for King Victor.
But these are uncertain times and no one really knows what happens to the teenagers who disappear into Windsor Castle. Is being an Offering the privilege everyone assumes it to be, or do the walls of the castle have something to hide?
Trapped in a maze of ancient corridors, Silver finds herself in a warped world of suspicion where it is difficult to know who to trust and who to fear. The one thing Silver does know is that she must find a way out . . .
My Review
* I won a paperback copy of this book on Goodreads First Reads*
"It is a reckoning in every sense of the word"
I was instantly in love with this book, it's adventurous, thrilling and twisted (in the best possible way) The Afterward in the book was fun and a wonderful addition, like bonus features on a DVD, the author said in it that she wanted a mix of mid evil Castle and future tech...well that is exactly what she did, as a lover of the mid evil era I loved how it applied in this dystopian world and who knows maybe this is our future as the downfall of this world started with the loss of all the Oil in the world, causing war and the division of all the countries, and we all know the fight for Oil is always on. The fact that the King was so sick and twisted and yet still so beloved by the people was an interesting notion, making me think about Propaganda and fear, those who knew the truth were to afraid to speak out and everyone else just chose to believe what they were told, that a good an just king reigns over them, but Silver discovers that rebel forces still exist and not everyone is blind to the terrible condition of the country and although they were not that present in this book I assume they will have their part to play soon.
I loved Silver she was the perfect Hero, flaws and all and through the power of togetherness she found a way to prove that people are strong and they deserve equal rights and freedoms. Watching the offerings forced to fight each other to the death, forced to work hard without much food or water, and pinned against each other with false promises and fear made my stomach turn and I don`t know how it went on for so long, but I do know that Silver saw the wrong being done and made the choice not only to save herself and Imrin, but as many as she could in hopes to prove a point and make the suffering stop. I can`t wait to watch Silver lead a rebellion against the terrible King and his equally sadistic Minister Prime.
This book was so much better than I expected and that`s saying a lot cause I had high expectations after reading the summary and seeing the beautiful cover that drew me in to begin with. I am so glad I got this book and got to experience this world and I can`t wait to experience more.