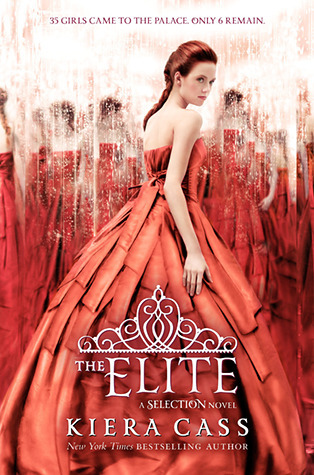 Title: The Elite
Author: Kiera Cass
Series: The Selection book 2
Rating: 4/5
Summary
The hotly-anticipated sequel to the New York Timesbestseller The Selection.
Thirty-five girls came to the palace to compete in the Selection. All but six have been sent home. And only one will get to marry Prince Maxon and be crowned princess of Illea.
America still isn't sure where her heart lies. When she's with Maxon, she's swept up in their new and breathless romance, and can't dream of being with anyone else. But whenever she sees Aspen standing guard around the palace, and is overcome with memories of the life they planned to share. With the group narrowed down to the Elite, the other girls are even more determined to win Maxon over—and time is running out for America to decide.
Just when America is sure she's made her choice, a devastating loss makes her question everything again. And while she's struggling to imagine her future, the violent rebels that are determined to overthrow the monarchy are growing stronger and their plans could destroy her chance at any kind of happy ending.
My Review
It was a long time ago that I read book one and all I remembered was liking it but not much more, well now I know I liked it a bit more than this one, of course I very much enjoyed this book but I was so much more annoyed with America and her inability to decide but most of all I was annoyed with her rashness to terrible decisions because she was "mad" or "betrayed". I am not a fan of love triangles really but in book one I was not really bothered by it, but in this book America spent was to much time worrying if Maxon loved her or not when he chased her for so long and then she made him wait cause she needed "time" and just when I thought she had decided she let small problems sway her so quickly. There was also a lot more to this book, it had a bit more on the rebels but I really really want more and I am hoping that book three "The One" tells me all I want to know. The focus is of course America, Maxon and Aspen but there are other characters that grabbed my heart and attention. The Marlee thing was very unexpected and it shook my faith in Maxon, but don't worry he recovered it and maybe I was jsut in shock, the King was also a big shock I was not ready for Maxons big reveal and it again changed the way I looked at and felt about Maxon which happened a lot in this book, I felt as uncertain about Maxon as America did at times but I did not jump to conclusions like she did.
I hope that the ending means that America has made a choice and I hope she will stick to her word and her promises. I really want to read the next book and find out if she will stand her ground and prove the King and the country she is worth it.
Good sequel to a great series.