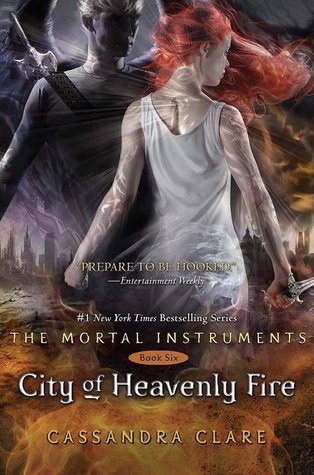 Title: City of Heavenly Fire
Author: Cassandra Clare
Series: The Mortal Instruments 6
Rating: 4/5
Summary
In this dazzling and long-awaited conclusion to the acclaimed Mortal Instruments series, Clary and her friends fight the greatest evil they have ever faced: Clary's own brother.
Sebastian Morgenstern is on the move, systematically turning Shadowhunter against Shadowhunter. Bearing the Infernal Cup, he transforms Shadowhunters into creatures out of nightmare, tearing apart families and lovers as the ranks of his Endarkened army swell.
The embattled Shadowhunters withdraw to Idris - but not even the famed demon towers of Alicante can keep Sebastian at bay. And with the Nephilim trapped in Idris, who will guard the world against demons?
When one of the greatest betrayals the Nephilim have ever known is revealed, Clary, Jace, Isabelle, Simon, and Alec must flee - even if their journey takes them deep into the demon realms, where no Shadowhunter has set foot before, and from which no human being has ever returned...
Love will be sacrificed and lives lost in the terrible battle for the fate of the word in the thrilling final installment of the classic urban fantasy series The Mortal Instruments!
My Review
Well another Cassandra Clare series comes to a close and although I was not in love with this book as I was a few of the others, I do feel that the ending left me satisfied and that makes me very glad. I did my research before reading this book and I`m glad I did because I got reminders of why I loved this world and the people in it, and when I started reading I was happy to be back. I really do love Cassandra Clare`s writing and I admire the wit she gives each of her characters, each with their own way and their own voice and it is the best part of all the books it makes me that much more attached and makes them that more real for me.
***spoilers ahead***
There was a lot to take in at this point, I mean we are at book six and each book contains so much, and at first I must admit I felt a little overwhelmed by it all, plus it jumps back from person to person so many story lines weaving together, but I found myself very curious and very hooked by about page 200 (it`s 725 pages so I had a lot left to enjoy), but I have to say with it being so long there were a few parts that felt a little dragged out, I won`t say which ones as not to offend anyone but there were a couple. I was pleased to see so many people get what they wanted, of course there was much loss and a lot of hard times to come but to see so many of the relationships end in a fragile peace just like life itself was great, things may be uncertain but they have this victory and this moment, small as it may be but worth it all the same. When Simon was the price they paid to get home from the demon realm, I was so heartbroken for them all Isabell most of all, but I should have known they would never give up and after all that Simon has been through and survived I am now not surprised that this is just another one for the list of ``Simon for the win!``
I am a little sad the series is over but at the same time I feel like it ran it`s course and we all got a little bit of closure.
I have so many thoughts and feelings on this book and this series and it`s combination to the Infernal Devices and I don`t think they will all fit on here but I do hope every one enjoys or enjoyed this book and I can`t wait for the discussions to begin.