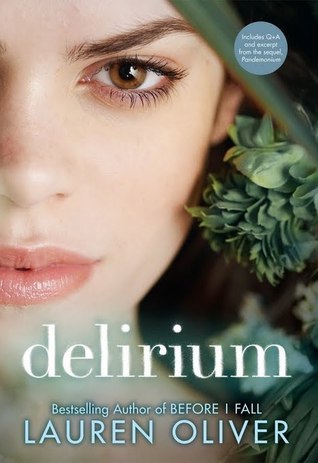 Title: Delirium (Delirium 1)
Author: Lauren Oliver
Rating: 3.5 /5
Synopsis:
Ninety-five days, and then I'll be safe. I wonder whether the procedure will hurt. I want to get it over with. It's hard to be patient. It's hard not to be afraid while I'm still uncured, though so far the deliria hasn't touched me yet. Still, I worry. They say that in the old days, love drove people to madness. The deadliest of all deadly things: It kills you both when you have it and when you don't.
My Review:
Well I finally read this and to be honest I had expected more, it was an okay book but I got a little bored. I found things did pick up at the end but not soon enough for my liking but also it did pick up enough that I am a little curious and I want to pick up the next book and see what happens, although I will admit I am not rushing out to get my hands on it.
I was not impressed by Lena she sort of annoyed me but I did like the romance she found and how it opened her eyes to a world of possibility. Lena's friend Hana I did enjoy she had a fun rebellious spirit that drew me to her and I would really like to read the novella about her more than the rest of the trilogy because I want to know more about her.
The idea of Love being a disease was interesting and it sure gave me some food for thought and it is definitely the thing that is keeping me interested in the series but as I read it is also part of the reason things were a little boring since a life without love seems extremely dull to me. I hope that things are a bit more light in the next book and I do want to find out where Lena goes from here. Overall this was not a terrible book but I had hoped for more and I think that my lesson here is to not expect to much from book 2 and maybe I can enjoy it a bit more
.