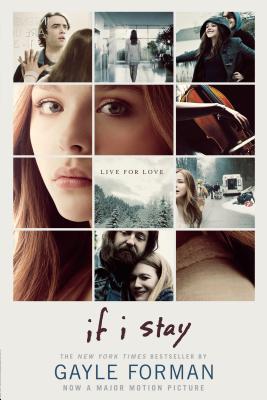 Tittle: If I Stay (If I Stay book one)
Author: Gayle Forman
Format: Paperback (yes I have the movie cover version)
Rating: 5/5
Synopsis:
The critically acclaimed, bestselling novel from Gayle Forman, author of Where She Went, Just One Day, and Just One Year.

In the blink of an eye everything changes. Seventeen-year-old Mia has no memory of the accident; she can only recall what happened afterwards, watching her own damaged body being taken from the wreck. Little by little she struggles to put together the pieces- to figure out what she has lost, what she has left, and the very difficult choice she must make. Heartwrenchingly beautiful, this will change the way you look at life, love, and family. '

Now a major motion picture starring Chloe Grace Moretz, Mia's story will stay with you for a long, long time.
My Review:
First of all WOW, I honestly was not really sure about reading this it had so much hype and everyone was saying how it made them cry and all I could think about was my "The Fault in our Stars" debacle and how all the hype for that one didn't really add up, well this one lived up and then some. I don't think I can do this review with out spoilers so beware some small spoilers may be contained in this review.
I'm not much of a crier when it comes to books, movies, TV and sometimes songs can make me tear up but it's rare that a book can bring tears to my eyes and this was one of those books. I broke down and had to take an emotional break when her Gramps told her it was okay to go:
"It's okay." he tells me. "If you want to go. Everyone wants you to stay. I want you to stay more than I've ever wanted anything in my life."..."its okay if you have to leave us. It's okay if you have to leave us. It's okay if you want to stop fighting."
With out realizing it he gave her the moat beautiful gift ans as someone who knows what it's like to have a strong silent Grandpa so full of love and understanding my heart broke and melted all at once with the broken beauty of it all.
I loved getting the flashbacks into Mia's life before the crash, but each story about the love of her family made it so much more upsetting when you realize they are already gone. I cannot believe she had to lose Teddy along with her parents, the bright young boy missed out on so much and I can understand why his death seemed to hit Mia a little harder than her parents, but even after getting so much insight into Mia the enormous impact that every death will have on her can never be truly understood.
I regret my initial thoughts on this book it was much better than I expected and I'm curious if the movie is as good as the book.