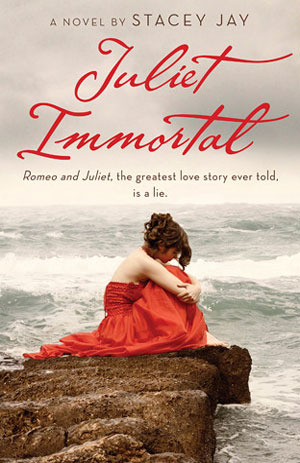 Title: Juliet Immortal
Author: Stacey Jay
Rating: 5/5
Synopsis
The most tragic love story in history . . .
Juliet Capulet didn't take her own life. She was murdered by the person she trusted most, her new husband, Romeo Montague, a sacrifice made to ensure his own immortality. But what Romeo didn't anticipate was that Juliet would be granted eternity, as well, and would become an agent for the Ambassadors of Light. For 700 years, she's fought Romeo for the souls of true lovers, struggling to preserve romantic love and the lives of the innocent. Until the day she meets someone she's forbidden to love, and Romeo, oh Romeo, will do everything in his power to destroy that love.
"These violent delights have violent ends
And in their triumph die, like fire and powder,
Which as they kiss consume."
—Romeo and Juliet
by William Shakespeare
My Review
Romeo and Juliet has always been a Shakespeare play I was fond of since my first reading (Yes I have read it more than once!) and to be honest I was a little nervous as to how it could be retold and done justice, well I should not have been nervous because this was a great book full of fabulous ties to the original but it was also a great work of fiction all it's own. The story of the Ambassadors and Mirsenaries and how each side recruited one person each, from the pair of lovers, turning them against each other for all eternity was so tragic and maybe a little hard for me to wrap my head around at first since the image of Romeo and Juliet has always been of love and devotion, but after I was introduced to this version of Romeo was so gross and evil that my mind was changed. Juliet was a very enjoyable character, the complexity of all she had been through made her very interesting, I found myself flying through this book eager for her story to continue and true love to prevail. Since Juliet inhabits another persons body I thought things may get a little confusing but it was very well done, it was always clear who the focus was and I was never confused.
I am so glad I finally made time to read this book I enjoyed so much of it...mostly the ending!!! and I know there is a companion novel but I feel like I got all I wanted out of this story and I could not ask for more so I will not spoil it with one I may not care for.