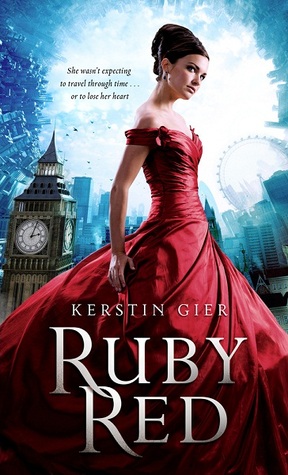 Series: Ruby Red Trilogy book 1
Synopsis
Sixteen-year-old Gwen lives with her extended - and rather eccentric - family in an exclusive London neighborhood. In spite of her ancestors' peculiar history, she's had a relatively normal life so far. The time-traveling gene that runs like a secret thread through the female half of the family is supposed to have skipped over Gwen, so she hasn't been introduced to "the mysteries," and can spend her time hanging out with her best friend, Lesly. It comes as an unwelcome surprise when she starts taking sudden, uncontrolled leaps into the past.
She's totally unprepared for time travel, not to mention all that comes with it: fancy clothes, archaic manners, a mysterious secret society, and Gideon, her time-traveling counterpart. He's obnoxious, a know-it-all, and possibly the best-looking guy she's seen in any century . . . .
My Review
I have read only a few time travel books because I love the idea but so many of them are confusing and not well thought out, I believe time-travel is a tricky subject and when not done well it is a sin. The time traveling Gene was a unique way to go about it and I found it neat that everyone was aware of this power and in Gwen's family it was even a thing of pride that her cousin Charlotte was a carrier, but of course this book was not about her it is about Gwen, so of course Gwen turns out to be the time traveler and chaos ensues, she gets a lot of grief from her cousin and aunt since they think she stole it from them, but that is just so dumb, how can you steal something you never wanted.
I sort of feel like this book, the first in a trilogy, was just a book of questions, so may secrets and so many half truths that I am more confused than when I started but I guess since this is book one it's not so bad, but I would have liked more answers than just the one that I had already guessed.
This book was filled with a bunch of crewed characters, most of her family were jerks and stuck up and I guess when you are part of a secret society you tend to be stuffy but since I have not been a part of a secret society I would not know, but to me they all seemed jerky and rude even Evan, although like many male leads he starts that way but kindness leaks out over time and I see myself enjoying him in the next books, I am excited to more on as I am very frustrated at being left hanging.