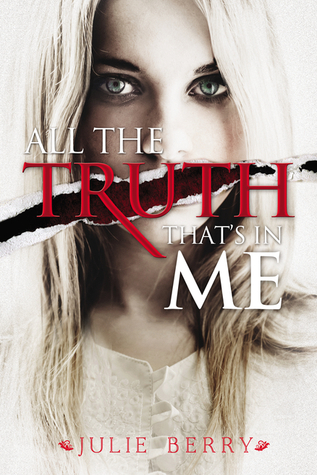 Title: All The Truth That's In Me
Author: Julie Berry
Rating: 4/5
Summary
Four years ago, Judith and her best friend disappeared from their small town of Roswell Station. Two years ago, only Judith returned, permanently mutilated, reviled and ignored by those who were once her friends and family. Unable to speak, Judith lives like a ghost in her own home, silently pouring out her thoughts to the boy who's owned her heart as long as she can remember—even if he doesn't know it—her childhood friend, Lucas. But when Roswell Station is attacked, long-buried secrets come to light, and Judith is forced to choose: continue to live in silence, or recover her voice, even if it means changing her world, and the lives around her, forever. This startlingly original novel will shock and disturb you; it will fill you with Judith's passion and longing; and its mysteries will keep you feverishly turning the pages until the very last.
My Review
I won this book from goodreads first reads and I was very excited to read it, and although it was not at all what I expected I found that I very much enjoyed this book and I was pleasantly surprised with so many things about it. The writing style of this book was very different and it took me a while to get used to it and be able to follow along smoothly, but once I did I found it rather enjoyable and because it is written almost as a letter from one character to another I found it to be a little more personal, which I liked, I noticed that the writing grew with Judith either that or as she grew I got more accustomed to the style and it seemed that way to me but whatever it was I found it cool and I liked it, even if it was just me I thought it sort of reflected her growth and self discovery.
It was unexpected for me the time frame or era of the stories setting, I am not sure why but I thought it was a present day tale, but I am very glad it took place when it did, I think it just made sense, especially in regard to the way Judith was treated upon her return, In that day and age her being shunned and feared because of what she went through would have been considered normal, I could understand the church and townsfolk being afraid, but I was shocked at the treatment she received from her mother and brother, I think her mother blamed her for her fathers death but it's sad she couldn't let go like her brother finally did.
Poor young Judith suffered so much in her short life I ached for her and I felt an instant connection to her and the book being written from her point of view in a letter style made the connection all that much stronger because at times I forgot she was writing to someone else it almost felt like it was to me. I must say I was glad to see she got some happiness and good fortune even if the price she seemed to pay was high and often. I am still a little upset with Lucas and I just hope he proves himself to Judith, she deserves the best after the fight she lived through so I hope he is it, I guess I just don't 100% forgive him. I have to mention Maria because she threw me for a loop, I thought she was just another pretty, uptight socialite, but man did she prove me wrong, she was the small miracle that Judith needed, I would be glad to call her friend.
Not only was this a story of growth and self discovery through a terrible tragedy, but it was also a towns struggle through War, murder, scandal and lies to come out the other side a more great full and accepting place. I read this book quickly, ready to get to the bottom of the mystery and see the happy ending that so many of these characters had earned. Speaking of the murder the way this book was written I was sure I had the killer pegged and most of the story figured out, well I was WAY wrong and I bet I am not the only one, it's very cleaver indeed.
I really enjoyed this book and found a lot of it to be unexpected and fresh I think many many others will also enjoy it.